Walking Through SAP BusinessObjects Explorer
:
Today I attended the GABOUG quarterly meeting and saw a really nice presentation of SAP BusinessObjects Explorer by Rob Fiorillo of RFP Consulting. He showed multiple demos.
During the first demo, he wanted to show how to use Explorer with data from Excel, so he used Live Office to take the data out of the EDW. He then imported the data into SAP BusinessObjects Explorer using the new plug-in from labs called, SAP BusinessObjects Explorer with Excel Navigation Prototype.
There are currently two versions of SAP BusinessObjects Explorer. There is:
SAP BusinessObjects Explorer Accelerated
SAP BusinessObjects Explorer


SAP BusinessObjects Explorer Accelerated – The Accelerated version provides unlimited scalability of in memory processing for data regardless of size and is really the way to go. It requires the use of SAP's Netweaver BW 7, BWA Blades and SAP BusinessObjects Explorer Blades.
SAP BusinessObjects Explorer (non-Accelerated) – Organizations can use the non-accelerated version, but there are limitations to the amount of data SAP BusinessObjects Explorer non-Accelerated can handle. In 2010, SAP BusinessObjects will be bringing a "BWA Blades for non-SAP data" to the market, which will overcome the existing limitations.
SAP BusinessObjects Explorer breaks new ground with the way it brings together:
Fast Performance
Unlimited Data
Intuitive User Experience


SAP BusinessObjects Explorer Demo Site
A great example of the solution is represented my the http://microfinance.sap.com/ demo site. Click below and take it for a test run.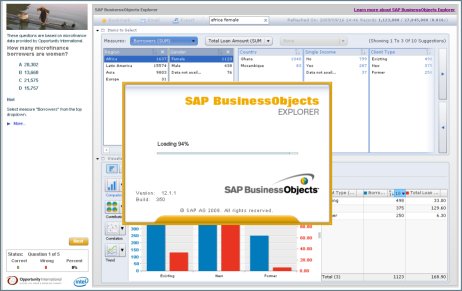 Incredible Data Volumes
The microfinance website does a great job of showing you the intuitive user interface while and the same time demonstrating the large data volumes that can be processes. This demo site is running a relatively small data sample of 27 million records, but look at the response time!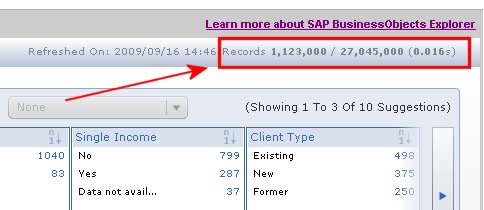 That's fast! 0.016s to return a result set of 1,123,000 records. Also what I love about SAP BusinessObjects Explorer is that I am able to see the desired metric broken down by every dimension member. In the screenshot above you can see that of the selected sample, 498 are Existing Clients, 375 are New Clients and 250 are Former Clients.
I am fascinated by the growth of in memory solutions within the BI Marketplace. Qliktech's QlikView is probably one of the better know solutions in the space. With Explorer, SAP BusinessObjects answers the call of the industry to provide in-memory solutions for organizations who have standardized on their platform. The good news is that you no longer have to deploy niche solutions to get the type of in-memory performance many of your end-users would love.
«Good BI»
Source:
http://neverknewthat.wordpress.com